Every three minutes, one person in the United States is diagnosed with blood cancer.
According to the leukemia and lymphoma society, leukemia, lymphoma, and myeloma are expected to account for approximately 10.2% of the 1,685,210 estimated new cancer diagnoses in 2016.
Currently, roughly 1,237,824 individuals in the United States are either in remission from or living with leukemia, lymphoma or myeloma.
Overview of Leukemia
Leukemia is a cancer of the blood cells, caused when blood-forming organs and bone marrow produce a large number of abnormal or immature leukocytes.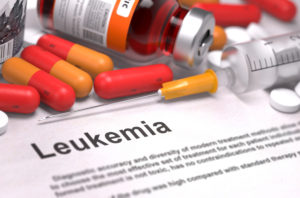 Leukocytes are white blood cells, but are essentially colorless. Their responsibility is to combat foreign substances in the body and to help fight diseases.
Slow-growing leukemia doesn't have symptoms typically; however, certain forms may be characterized by fever, weight loss, easy bruising or frequent infections.
In an individual with leukemia, the production of normal blood cells is suppressed by the production of abnormal cells, leading to the symptoms mentioned above, as well as anemia.
Leukemia is broadly characterized as either acute or chronic. Acute leukemias are further divided into two sub-categories:
Acute lymphocytic leukemia
Acute non-lymphocytic leukemia
The first type is more often diagnosed in children. This type of leukemia, when found in children, is commonly curable; however, may pose a serious threat for adults.
The second acute leukemia, non-lymphocytic, is characterized by a series of cell disorders that behave in similar manners.
This category is further broken down into five classifications: erythroleukemia, promyelocytic leukemia, acute monocytic leukemia, and acute myelomonocytic leukemia.
A small percentage of this type of leukemia is curable. If left untreated, acute leukemia is fatal.
The second broad classification of blood cancer is chronic leukemia. Chronic leukemia is often slow-growing and any treatment options considered are to moderate the cancer or control its progress.
CLL stands for Chronic Lymphocytic Leukemia and is the most common form of the disease in the United States, frequently occurring in older individuals.
The cause of CLL is unknown, and it affects twice as many males as females. This type of cancer affects mature white blood cells and is diagnosed through a blood test, determining abnormal blood counts.
It is with this type of leukemia that symptoms frequently occur, including weight loss, anemia, swollen lymph nodes, and an enlarged spleen.
Blood Cancer and Life Insurance
The majority of leukemias are fatal, within months or years due to treatment options or their side effects, such as organ failure and the body's inability to stave off infections.
In terms of life insurance, this means that most applicants will have to postpone their application for 5 years following the date of his or her last treatment session.
After the postponement date, pending the prognosis, applicants may find that their rating is low and they are charges a flat extra on top of their premiums for coverage.
Typically this coverage doesn't extend beyond 5 years, and the flat extra can vary between $5 and $10 per every $1,000 of the policy.
This means that if your policy is $250,000, you could be paying an extra fee anywhere between $1,250 and $2,500 on top of your premiums, depending on the rate of your flat extra.
If you are over 50 and have been diagnosed with CLL, you may be able to earn a higher rating with some companies. Typically, for those diagnosed with acute lymphocytic leukemia, curable in children, the 5-year waiting period will apply.
After the period has passed, the rating earned will typically be low and a flat fee will be added.
If you have been in remission with no evidence of recurrence for 15 years or more, you may be eligible for a standard rating and, for the percentage of leukemias that are curable, it may be possible to apply for life insurance and earn a decent rating after 5 years without recurrence.
As with any high-risk disease, your rating and your premium depend on the carrier, your overall health, the treatment options, and your prognosis.
Finding the Policy For You
Because a variety of factors influence your risk, your insurance agent will want to know a few things before helping you begin your search for coverage.
Your agent will want to know the following:
The name of your leukemia
The date you were diagnosed and the date of your last treatment
A list of the medications you are taking
Dates of recurrence (if applicable)
The presence of infection (flu, colds, etc)
Was your spleen removed as part of the treatment process?
Frequency of checkup and your most current blood count
It is especially important when providing this information that you do not leave anything out.
Even the smallest detail about your health can make a difference in your search for life insurance with leukemia; the clearer the picture of your health, the better the chances of finding coverage.
It's important to be patient and keep a positive outlook when shopping for life insurance. Leukemia is a serious cancer and, chances are, you and your family are going through a tense and difficult time.
The last thing you should be doing is stressing about finding life insurance. Leave the search in the hands of a good agent and remember that it may take time to find you affordable coverage.
It is also important to remember that the carriers you find may not charge you the premiums you want. While this is common for individuals with leukemia, it does not mean that your agent will stop looking to find you something more affordable.
The life insurance industry is constantly evolving, which means underwriting guidelines are, too.